---
About Moreno Valley
Moreno Valley is located in the Inland Empire, east of Riverside, in Riverside County California. In the heart of the Inland Empire, it is within 1-2 hours of most Southern Califorina attractions, such as Los Angeles, Hollywood, San Diego, Palm Springs, beach cities, such as Newport and Laguna Beach, Anaheim and many more.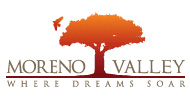 Currently one of the fastest growing cities in America, Moreno Valley is dynamic and exciting place to live. While smaller than most cities, Moreno Valley offers all the conveniences of a large city. It actually has more large retail stores and chain restraunts than some larger cities have (for example a WalMart, Chilis, Target and Best Buy located just a few miles apart). So whether you live on the west or east side of Moreno Valley, you are just a few minutes away from shopping, dining and entertainment.
Recently Moreno Valley has experienced a tremendous amount of growth and Moreno Valley is one of the fastest growing cities in California. It is actually the eighth fastest growing in the entire state and the fifth fastest growing city in Southern California behind Irvine, Fontana and Palmdale. There are several projects in development and even more underway. Moreno Valley is becoming more and more a desired place to live.
Moreno Valley's growth was tied for 26th in the nation for fastest-growing cities with populations over 100,000. The City was the second-fastest growing City in the Inland Empire, behind the City of Fontana. Moreno Valley continues to be a desirable community for businesses and home buyers.
Moreno Valley contains a few neighborhoods, known as:
Moreno Valley Ranch
Hidden Springs
Rancho Belago
Shadow Mountain
Learn more about Moreno Valley and its neighborhoods, by clicking on the links above.
If you live out of town and are thinking of buying a home in Moreno Valley or maybe already live in Moreno Valley, but looking to buy a larger home, please feel free to contact Victoria with any questions in regards to real estate or the local area.
Additional information about Moreno Valley:
Leslie Trujillo
Coldwell Banker
6809 Brockton Ave
Riverside, CA 92506 US
BRE License # 01936127